The Work From Anywhere Roadmap
Start working remotely in 42 days or less!
Are you ready to have a successful career while also having the freedom and flexibility to work from anywhere that YOU want to?!
The Work From Anywhere Roadmap is your complete step-by-step guide to getting started working remotely in 42 days or less!
In other words, it will take you from saying, "I have no idea where to start" to "I'm living my dream life!"
Because… you CAN have that life you desire…
You just have to know the right steps to take and take the time to do it.
In the Roadmap, I'll teach you the exact steps I took to quit my 9-5 corporate job, move to a remote cabin in the mountains, and travel with my family to over 50 new destinations while also having a successful career working less than part-time hours!
Can you imagine living wherever you want to, traveling the world, being at home with your kiddos, and seeing your family and friends more often?
Yes, it's totally possible! And it's freaking amazing!
In the Roadmap, I'll teach you how to:
Identify your "Why"
Determine if you should be a remote employee OR a freelancer/solopreneur
Decide what job you should do
Identify the skills you need for the job you want
Quickly learn the skills you need to know
Set yourself up for success before making the leap
Find your dream remote job
How could your life change if your work revolved around your life instead of the other way around?
Have the life you desire while having a successful career...
GRAB IT HERE!
A
 

Few

 

Commonly Asked Questions 

 

WHO IS THIS BEST FOR?

This is for anyone who wants to gain more flexibility in their life by taking advantage of the ability to work remotely, is ready for their work to revolve around their life instead of the other way around, and have a successful career while also having the freedom to work from anywhere they choose. Sounds nice, huh? It's a game-changer!

 

WHAT IS I'M BRAND NEW TO REMOTE WORK? IS THIS ROADMAP RIGHT FOR ME?

Absolutely! This roadmap is designed for people who are brand new to remote work, as well as those who are already working remotely but want to improve their skills and find better opportunities. We'll guide you through the entire process, from the very idea of working remotely to choosing between working for a company or freelancing, to finding and securing your dream remote job. 

 

HOW IS THE CONTENT DELIVERED?

When you purchase the Work From Anywhere Roadmap, we'll deliver it to you via the email you provide at checkout. Lessons are mapped out over 6 weeks. You can take it day by day, or move at your own pace! This isn't a standard PDF guide and workbook - it's a full-blown course bundled up neatly and easily in a PDF for you to go through. We also recommend printing it out and putting pen to paper.

 

HOW LONG DO I HAVE ACCESS TO THE MATERIALS?


You'll have lifetime access plus any updates that are made.

 
"
This roadmap gave me the clarity I need to build up my skills!
I absolutely recommend Chelsea's Roadmap for folks who are starting to consider working fully remote, this is a great introduction to all of the possibilities that you can achieve that!
- AILSA
"
Learning from someone who has done it prior is extremely beneficial! 
The roadmap provided clear steps for clarity and resources for finding my future position.
- JENNY
"
The roadmap was well worth the investment in my future and helped me bring my chaotic thoughts into order. Within 6 weeks, I had the motivation I needed to make it happen!
I needed someone to encourage me to get off my butt and make my dreams happen by giving me the right tools and direction. 
- VANESSA
Hi there, I'm Chelsea!
I created this Work From Anywhere Roadmap to help you eliminate the learning curve and put you on the fast track to successfully working remotely.
 When I left the corporate world after many years and first ventured into the world of remote work, I wish I had a comprehensive guide and mentor like this bootcamp - it certainly would have saved me from many of the mistakes I made and lots of time!  Now, as a successful entrepreneur, I want to share the valuable insights I've gained to help you embrace the freedom of remote work *successfully*.
My journey into entrepreneurship began as a side hustle alongside my full-time corporate job. At first, I was completely winging it. As things started to pick up, I realized that navigating the remote work landscape was challenging and time-consuming without proper guidance. I spent countless hours searching for the right information, figuring out how to find remote job opportunities, learning the skills needed to succeed in the remote work environment, and trying to find out how to get answers to those tech questions.
I don't want anyone else to face these same struggles.
With the Work From Anywhere Roadmap, I want to set you up for success from the start, whether you're transitioning to a remote career or looking to enhance your current remote work experience. Let me guide you on this exciting journey and help you unlock the true potential of working from anywhere!
Get The Roadmap Today!
Due to the nature of digital products, the Roadmap is non-refundable. 
START TODAY FOR AS LOW AS $57!

Wouldn't it feel great to have a successful career while truly working from anywhere?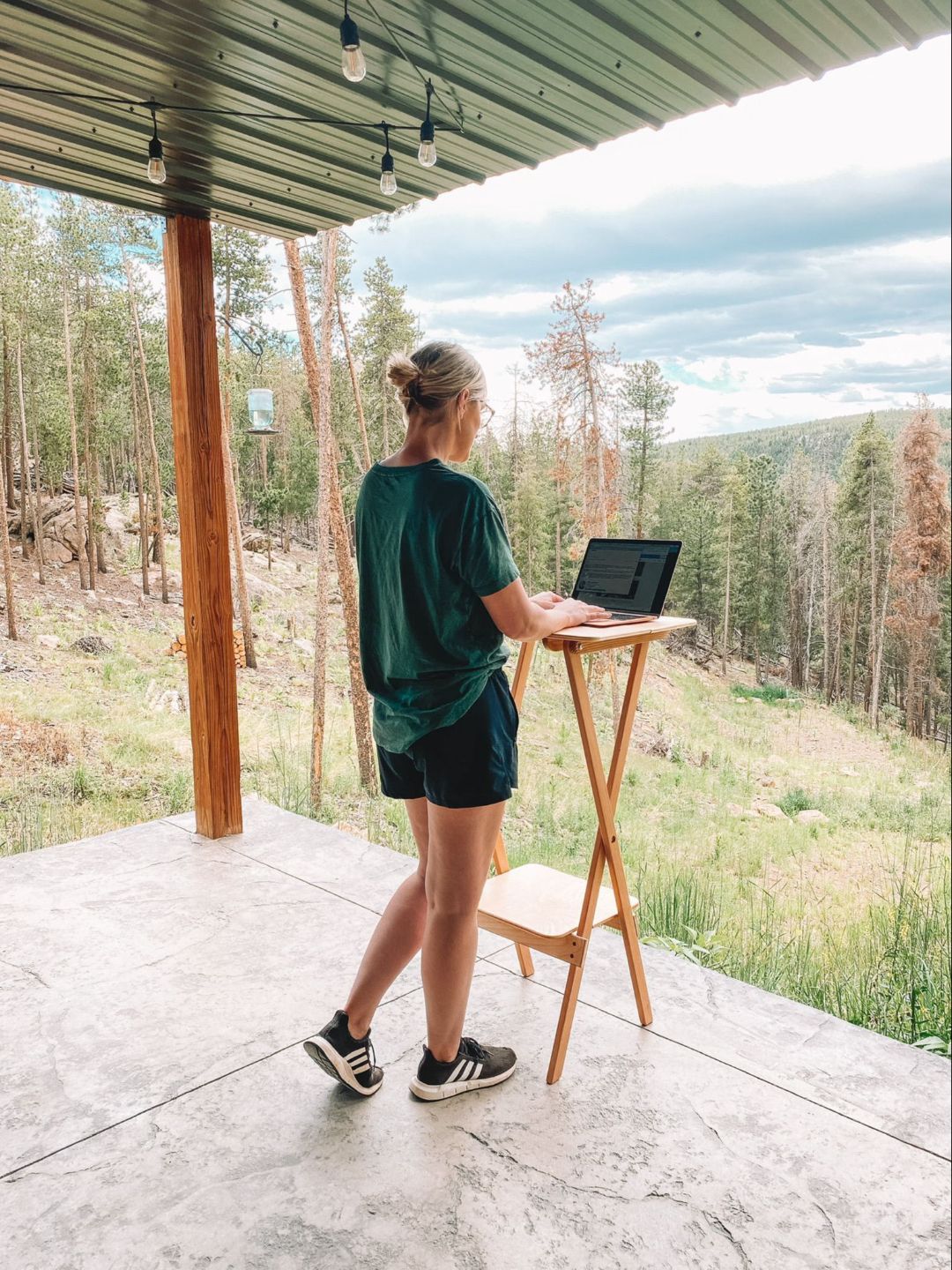 You Don't Have To Keep Waiting For "One Day" - You Can Change The Course of Your Life Today. 
GET THE ROADMAP NOW!